2004 U.S. PRESIDENTIAL ELECTION
(let the fun begin !!)
Election Postscript
Of the people, BY THE PEOPLE, for the people.

-- The largest number of American citizens EVER voting in a presidential election; 53% of the electoral vote for President Bush; 62% of the states for President Bush; Margin of victory: over 3.5 MILLION votes; more votes than any US president EVER.

-- The first US presidential election since 1988 in which the winner received more than 50% of the vote.

-- The American people---not the liberal media (especially CBS and the New York Times) and not foreigners---have made an INFORMED decision after listening to President Bush argue his case over the past year, in spite of repeated attacks from John Kerry/Michael Moore/Dan Rather/Barbara Streisand/Kofi Annan/George Soros/Alec Baldwin/and almost everyone else in Hollywood.

-- I watched the broadcasts on CNN and a bit on BBC. First of all, BBC should change their initials to KBC (Kerry Broadcasting Corporation) with all of their pro-Kerry/anti-Bush guests. And although CNN surprisingly provided fairly unbiased coverage, when it became apparent Bush's lead was insurmountable, you could begin to see some pretty deflated looks on the faces of the CNN broadcast crew, most notably Aaron Brown and Bill Schneider.
-- Interestingly, at the time polls began to close, 5 of the 6 major Japanese TV networks were covering the election returns and electoral vote tally live (which was Wed. morning, Japan time, on a national holiday when many people were at home watching with interest).

-- Wasn't it disappointing that liberals worked so hard to eliminate CHOICE by attempting to keep Ralph Nader off the ballots in so many states (he was only on the ballot in 35 states)?

-- Six months after gay and lesbian couples won the right to marry in Massachusetts, opponents of same-sex marriage struck back Tuesday, with voters in 11 states projected to approve constitutional amendments codifying marriage as exclusively being between a man and a woman. So much for the argument that President Bush was forcing HIS values on the citizens.

-- It was interesting to note that the final projection by Zogby (at 17:00 on election day) was so far off. (http://www.zogby.com)

-- I guess it just doesn't matter that the Washington Redskins actually lost last Sunday.

-- The leader of the Senate Democrats (Tom Daschle) was kicked out of office; the first time in over 50 years (1952) that a party leader has lost an election.

-- The 18-24 year olds voted in no greater percentage in this election (17%) than they did in the 2000 election (17%). Conclusion: They'll go out in large numbers and listen to Bruce Springsteen, but don't expect too many of them to walk down the street to vote.

-- George Clooney's dad, a Democrat, lost.

-- Louisiana sent a Republican to the Senate for the first time since Reconstruction (1865-1877).

-- This was the first time in over 100 years that a Republican President and a Republican Congress have been reelected together - there was a Republican-Democrat-Independent shift in the Senate from 50-48-1 to 55-44-1 and a Republican-Democrat-Independent shift in the House of Representatives from 224-202 to 231-200-1.
-- The Democrats have not won a majority in the election for President since 1976.

-- The Democrats have not won a majority of the white vote in the election for President since 1964.
-- Reality Check: Values & Morals Do Matter !!
The PEOPLE have spoken! Isn't democracy wonderful?!!
--(the above analysis courtesy of my good friend Michael)--
---
4 More Years !!!
4 More Years !!!
4 More Years !!!
4 More Years !!!
4 More Years !!!
4 More Years !!!
4 More Years !!!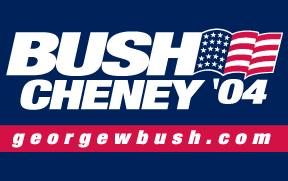 Click here to see the Breck Girl primp himself.
He's definitely not a guy's guy....
If you have a vote, I encourage
you to soul search DEEP down
inside and ask yourself whether
you can REALLY and TRULY
vote for this man?!!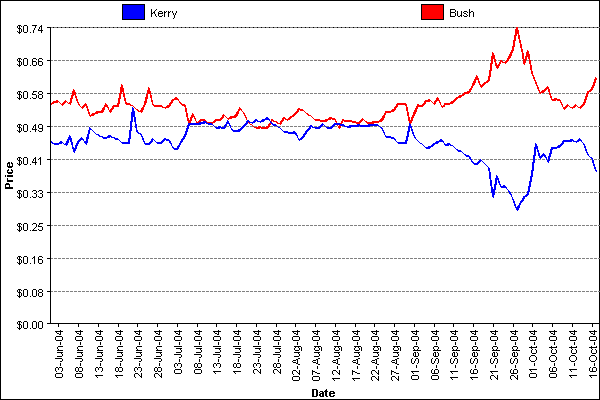 Source: Iowa Electronic Markets, University of Iowa Tippie College of Business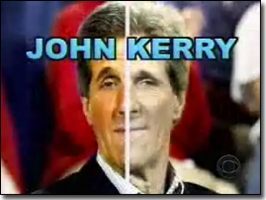 Click here to view John F'ing Kerry's latest TV ad
Senator Kerry, You're No Ronald Reagan...
Ronald Reagan's debate response
to Kerry... video
"John Kerry...
Wrong about America then.
Wrong for America today."
New Parodies:

Brother John Edwards' traveling salvation show
Living in an Al Gore Paradise
(resurrected from the 2000 Presidential campaign)
Rev. Jesse Jackson gives campaign advice to John F'ing Kerry
Joe Lockhart's Answering Machine
(the latest saga in the unfolding Dan Rather docu-gate scandal)
Jams Carville responds to the media on behalf of Joe Lockhart
Parody Archives:
John Kerry tries to revise Cambodian history "as he sees it"
John F'ing Kerry rehearses his announcement
of John Edwards as his running mate
Dawn of the Brain Dead Candidate
Kerry admits to Dr. Phil that he's a liberal
"Bad Vibrations" (sung to the tune of the old Beach Boys song)
Click here to hear the hilarious
new theme song for Kerry's Island
More of Paul Shanklin's hilarious parodies HERE.....
---
Kerry vs. Kerry
Kerry's Top Ten Iraq Flip-Flops
from the First Debate
___________________________________________________
VIEW THE "KERRY VS. KERRY" DEBATE VIDEO HERE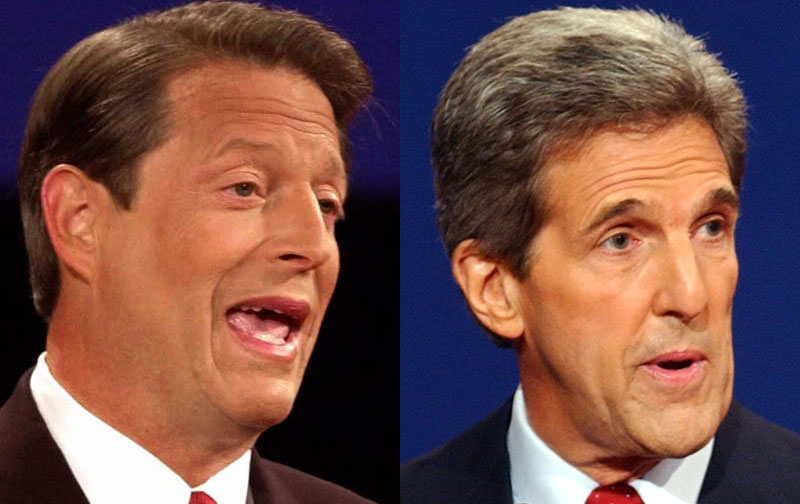 NICE lipstick, Sen. Kerry !!!
Did you use Al Gore's mortician?
VERY "Presidential" and Clintonesque.
Perhaps you should rather be auditioning in Hollywood...
ORANGE ALERT !!!
Could it be QT (Quick Tan)?
...or perhaps Agent Orange?
The Time cover we'd REALLY like to see !!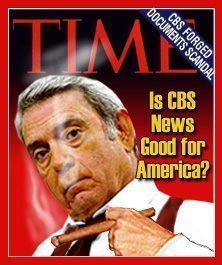 I'm NOT a crook !!
Click here to watch the new Swift Boat Veterans ad.
Recycle Center:
In the aftermath of all the hurricanes that have
recently struck Florida, the state where the 2000 Presidential
Election was decided, I would be remiss not to resurrect the
excellent editorial written by Richard Rodriguez in Nov. 2000
about the "quintessential American state of confusion."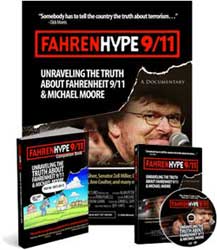 ---
Our Team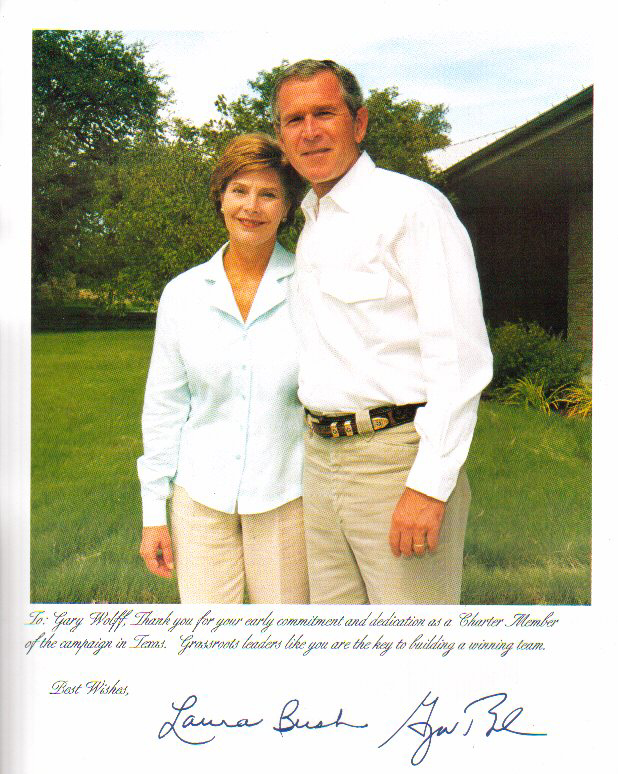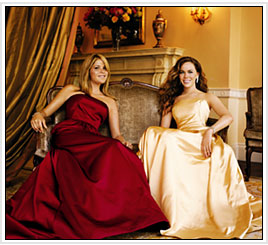 The First Daughters join their father
on the campaign trail.
The exciting President George W. Bush Photo Gallery
Cowboy Bush
(hey, WHAT'S wrong with being a COWBOY, anyways ?!!)
Another Version Here
---
Their Team
"War hero" aiding and abetting the enemy?
John F'ing Kerry's picture hangs in the museum
celebrating the Viet Cong's victory over America
in Ho Chi Minh City (formerly Saigon). The communists
in Vietnam consider him and Jane Fonda to be heroes.
The book that John F'ing Kerry wishes he never wrote:
The picture above is the original cover of
John Kerry's book, THE NEW SOLDIER.
John Kerry's friends, the so-called
Vietnam Veterans Against the War,
were mocking this scene photographed
during the Second World War.
6,825 American boys died in the battle
to take Iwo Jima before they planted that flag.
This book is out of print, but you can read it online for free here.
Click here to watch the new TV ad
by the Vietnam Veterans organization,
Swift Boat Veterans for Truth,
blasting John F'ing Kerry
Read four chapters of John O'Neill's book
UNFIT FOR COMMAND online for FREE:
CHAPTER 3 THE PURPLE HEART HUNTER
CHAPTER 5 MORE FRAUDULENT MEDALS
CHAPTER 6 A TESTIMONY OF LIES
CHAPTER 8 KERRY'S ANTIWAR SECRETS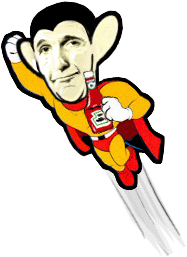 "Help is on the way??!!" (he-he)
(Click here to listen to the Mighty Mouse song)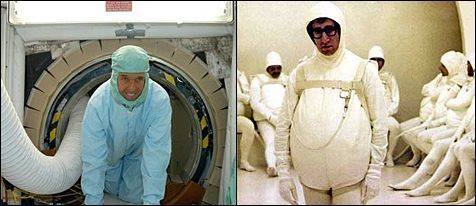 John Kerry (left) as a sperm swimming up a uterus?
(source: NASA)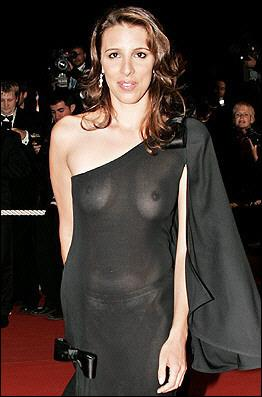 Alexandra Kerry, a 30-year-old actress, documentary filmmaker, and daughter of 2004 Democratic presidential nominee John Kerry, at the Cannes Film Festival on May 16th to present her short film, "The Last Full Measure."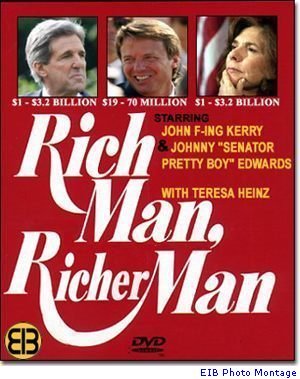 The new John-John Love Fest
How romantic !! Perhaps we need to get these guys a room....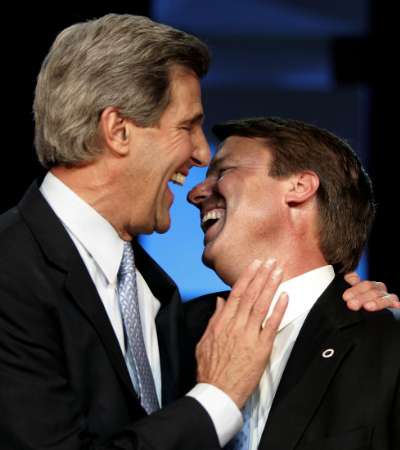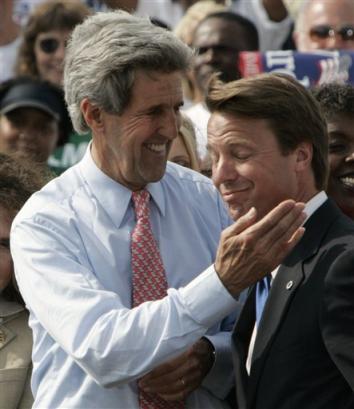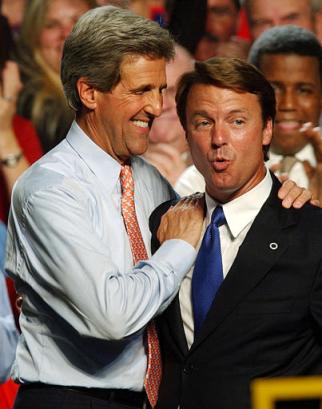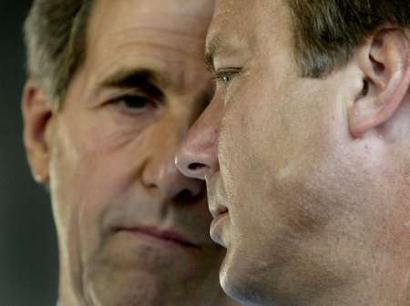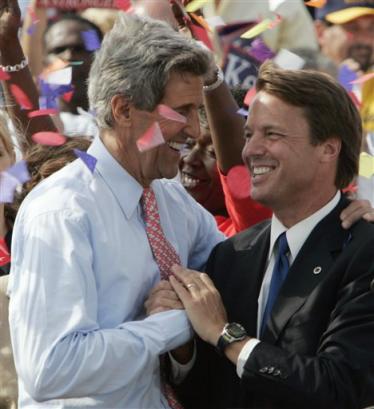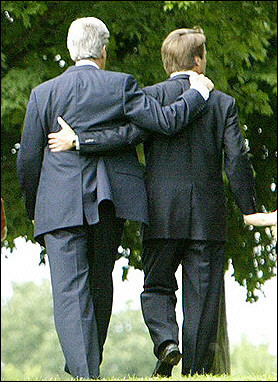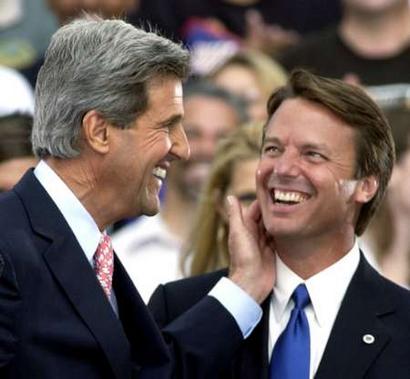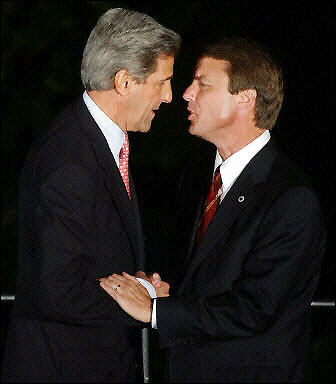 Click here to see a HILARIOUS animated version of the above photos.
THU JULY 08, 2004 10:09:35 ET

CAN'T KEEP HANDS OFF EACH OTHER

Hugs, kisses to the cheek, affectionate touching of the face, caressing of the back, grabbing of the arm, fingers to the neck, rubbing of the knees...

John Kerry and John Edwards can't keep their hands off each other!

In the past 48 hours, "candidate handling" has become the top buzz on the trail.

News photographers have been going wild with photos of the two Johns.

"I've been covering Washington and politics for 30 years. I can say I've never seen this much touching between two men, publicly," e-mailed one wire photographer.

When asked if the Johns are acting out a cynical focus group series of poses -- perhaps to show warmth to the chilly Bush/Cheney -- a Kerry spokesperson explained: "I think we're just seeing genuine affection between them."

But the spokesperson added, "I hope we do not see them wearing matching outfits when they ride bikes this weekend."
************
Source: Matt Drudge
And what a stark contrast with this:
"In the Senate four years -- and that is the full extent of public life --
no international experience, no military experience....
When I came back from Vietnam in 1969, I don't know if John Edwards was out of diapers then."
--John F. Kerry, during the Iowa Caucuses on the man he picked for #2--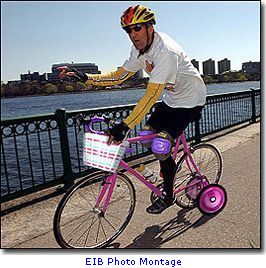 Kerry Bites the Dust Once Again on his Training Wheels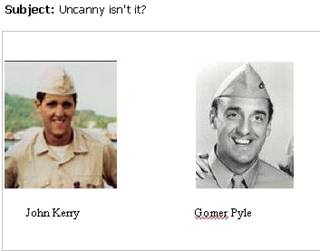 Senators John Kerry (D-MA) and Tom Harkin (D-IA) meet with Daniel Ortega,
leader of Nicaragua's communist Sandinistas in 1984.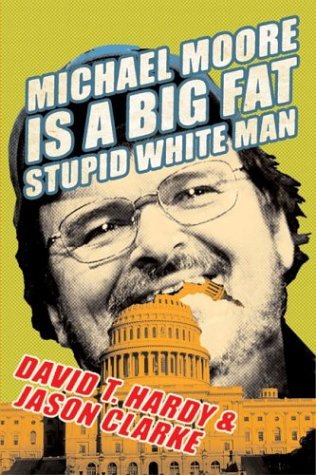 Click here to listen to the trailer for the Big Fat
Stupid White Man's new movie, Fahrenheit 98.6
Audio excerpt from Slick Willie's new book, "My Lie"
Clinton story on wife's name questioned
"The unwillingness to tell the truth or urge to fictionalize is manifest throughout the book.
Take Page 870. The Clintons were in New Zealand and met 'Sir Edmund Hillary who explored the South Pole in the 1950s and was the first man to reach the top of Mount Everest and, most important, was the person Chelsea's mother had been named for.'
Edmund Hillary reached the top of Everest in 1953. Hillary Rodham was born in 1947 when the famed mountain climber was still an unknown beekeeper."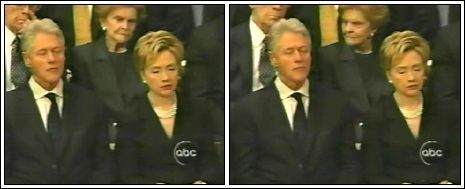 The Clintons pay their final respects at Ronald Reagan's funeral
(zzzzzzzzzzzzz......)
And finally, please click here to see a replay of Howard Dean's
now-famous crazed, shouting speech after the Iowa caucuses.
---
No Man's Land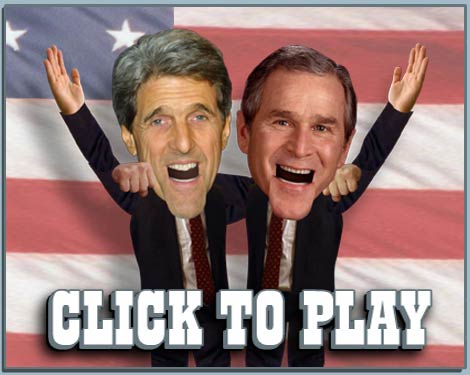 Who would you rather have running your country?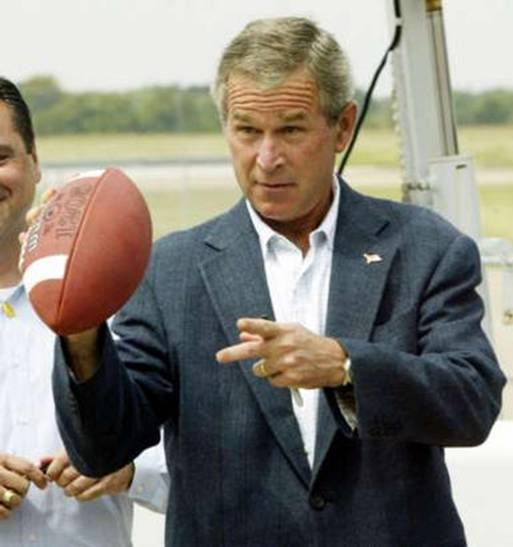 OR

If you have any comments, suggestions, complaints,
or would just like to yell at me,
you can send email here: