Tired of winter? I am.
Fortunately, spring comes early in Japan.
The springtime flowers bring a non-stop exhilirating display of brilliant colors
and sweet fragrances to titillate the senses.
The plum blossoms begin in mid-February,
followed by the absolutely breathtaking cherry blossoms,
and then a continuous overlapping of blooming periods for azaleas,
camellias, wisteria, peonies, roses, tulips, pansies, irises, hydrangeas, etc.
that lasts well into mid-summer.
For anyone not accustomed to seeing flowering trees in full bloom,
the cherry blossoms are exceptionally impressive,
as they are quite widespread throughout the city,
appearing like large clumps of cotton candy on the landscape.
In Japanese culture, the cherry blossoms are symbolic of renewal and a fresh start,
as both the new school year and new fiscal year begin in April.
For a short sampling of Japan's spring magic, click on the links to
flower photos below:
And then there's.....
and.....
How to care for a flowering cherry tree, if you are lucky enough to own one
Also, springtime flowers are very beautiful in Texas, too.....
Gary Joe Wolff
(in Japan)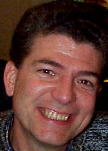 By the way, if you are not now hearing background music or cannot see a control panel below with start/stop buttons,
you can download your free Crescendo MIDI player by clicking on the logo below: