Click the start/stop button below
to play the background music

Gary's Bio
My Hometown
Yes, as you have probably already gathered, I am from the Lone Star state.
I grew up in Bellaire, a suburb of Houston, Texas,
the home of NASA,
the Astrodome (the world's first domed sports stadium, built in 1965),
Compaq Computer, American General, Kellogg Brown & Root, and
Continental Airlines.
Sometimes referred to as the Energy Capital of the World,
due to the millions of barrels of oil imported through the Port of Houston every year
and being home to America's largest petrochemical complex,
Houston is headquarters to a number of large energy firms
including Shell Oil, Conoco, Pennzoil-Quaker State, Enron Corp., and Haliburton Energy Services.
Virtually every major energy company is represented in the city,
and most foreign oil companies make Houston their U.S. base.
More than 250 import/export companies operate in the area.
Houston's strategic location on the Texas Gulf makes it an ideal gateway to inland points.
Three major railroads and one terminal switching railroad serve Houston.
In addition, about 130 trucking companies serve the Houston area,
and modern highways link the port with the continental United Sates, Canada, and Mexico.
Many world dignitaries, including kings and presidents, have been treated at
Houston's world-renowned Texas Medical Center --
42 medical institutions and over 50,000 employees, including 14 hospitals,
such as the Texas Children's Hospital (the largest pediatric hospital in the U.S.),
and the M.D. Anderson Cancer Research Center.
Also, 2 medical schools, 4 nursing colleges, the country's largest medical library,
schools of dentistry and public health,
10,000 students,
nearly 5 million patients a year,
and the workplace of Dr. Michael DeBakey,
the internationally famed cardiovascular surgeon and pioneer
in artificial hearts and transplants,
who examined Russian President Boris Yeltsin
prior to his heart surgery several years ago.
The Houston area is also home to
Rice University, the University of Houston,
the world's largest livestock show and rodeo,
George and Barbara Bush,
Olympic Gold Medal figure skating champion Tara Lipinski,
former world heavyweight boxing champion George Foreman,
strikeout ace and Hall-of-Famer Nolan Ryan, and
four-time Indy 500 winner and now successful Indy car owner A. J. Foyt.
Also, actors Randy Quaid, Dennis Quaid,
(I went to high school with these brothers)
and Patrick Swayze,
singers Kenny Rogers, B. J. Thomas, and Clint Black,
the famous blues-rock artists Z Z Top and brothers Johnny & Edgar Winter,
the 2-time NBA champion Houston Rockets basketball team,

the 3-time defending champion Women's National Basketball Association (WNBA) Houston Comets,
(Oops, this team was disbanded in 2008)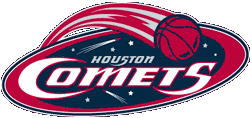 and the 1999 International Hockey League Turner Cup champion Houston Aeros.
Houston is America's 4th largest city,
with a regional population of 4.3 million, and its 2nd largest port (8th in the world),
so I guess you could say I'm a "big city boy,"
but sometimes I like to dress up like a cowboy
(talkin' about getting some stares on the Tokyo subways --
especially wearing that 10-gallon hat !!).
Houston has become quite the international city,
now with consular offices from 65 countries, 45 foreign chambers of commerce,
and 28 foreign bank representative offices.
The Port of Houston, besides being America's 2nd largest port in total tonnage,
is the nation's top-ranked port of entry for foreign cargo,
and thus has been nicknamed "America's Gateway to the Rest of the World."
Houston's Downtown District is undergoing a massive revitalization
program worth three-quarters of a billion dollars,
including the recent completion of Minute Maid Park,
a new retractable-roof baseball stadium for the Houston Astros.


The 50-block area is already home to Houston's Theater District,
which is second only to New York City's Broadway in the number of theater seats. Also, in addition to the highly-acclaimed Houston Symphony Orchestra, there is the Houston Ballet and the Houston Grand Opera.
As for modern-day Texas culture, these days it can for the most part be summed up in only one word, TRUCKS,
an automotive classification that includes not only pick-ups, but sport-utility vehicles and minivans as well.
It has been said that America loves trucks, as they now account for 50% of overall vehicle sales in the U.S.
But in Texas, people are OBSESSED with them.
Almost 10% of all trucks sold in the U.S. are registered in Texas,
and the state sells more trucks than 22 other states combined, including Montana, Nebraska, and Wyoming,
where trucks have always been popular.
Close to a quarter of all Chevy Suburbans, often nicknamed the "Texas Cadillac" because of its popularity there,
are sold in the Lone Star State.
Background
I used to be an engineer,
designing streets, highways,
and computer traffic signal systems for a living.
In my college days, I lived in Austin, Texas,
where I studied at the University of Texas
(yes, I am an avid Longhorn fan!).
I even lived in the same dormitory with Earl Campbell,
the famous Hall-of-Fame, Heisman Trophy-winning,
3-time MVP, and 7-time Pro Bowl running back from Tyler, Texas.
I guess there are certain aspects of the engineering profession I miss,
but becoming a language teacher in Japan has been a blessing in many respects.
I decided to move to the Land of the Rising Sun after reading a tiny
ad in one of my engineering magazines about teaching English to Japanese businessmen.

My hometown is Houston,
but I have lived all over Texas and in a number of places throughout the western U.S.,
including Arizona, Colorado, Wyoming, and Montana.
And, although I'm not looking for work,
just in case you happen to be hiring and have that dream job available,
I've decided to throw in my resume.
However, try not to fall asleep in the process
(you could spill coffee on your keyboard!).
Interests
My first love
in the whole world has always been mountain climbing,
and I have had the pleasure of climbing some of the highest peaks
in both America and in Japan
(be sure to check out the 400+ photos in the photo gallery).

Of course, one of my favorite hobbies is sleeping and I can just never seem to get enough of it.
But when I'm not snoozing, working, being stuffed like a sardine
into a crowded Tokyo train, hiking, or surfing the net,
I sometimes enjoy cycling, playing tennis and softball,
working out at the exercise gym, and terrorizing people with my harmonica.
And once in a blue moon,
I tickle the ivories on my Casio electronic keyboard.
My favorite keyboard pieces tend to be easy classical music and love ballads.
I also really enjoy partying, telling jokes, and trying to make people laugh.
Recently, I have gained notoriety with my Mr. Bean impersonations.
Remembering people's birthdays also is one of my favorite pastimes.
And all my close friends know
one of my favorite hangouts in the whole world used to be a tiny, yet famous, little karaoke bar
in Tokyo's Takadanobaba area named Pub Elvis, which unfortunately has since closed.
It had over 3000 English songs.