Click start/stop button to play BGM:

Back to most current version of Gary Wolff's welcome page
Happy Summer !!!
A Totally Self-Sufficient Toilet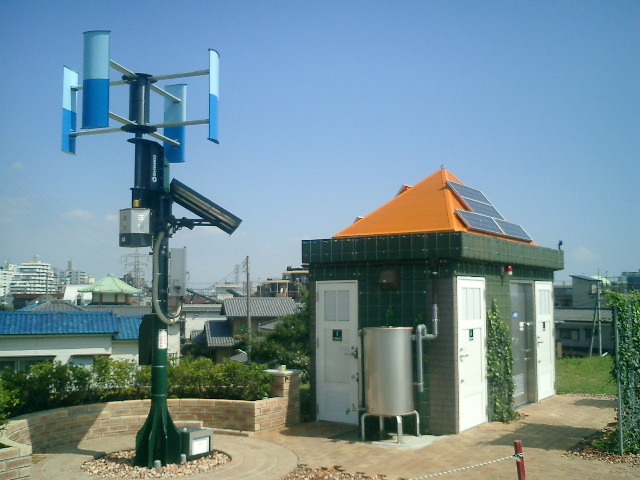 This environmentally-friendly toilet along the Edogawa cycling course in Tokyo
uses solar panels and a windmill for power generation, collects rainwater for
hand washing & flushing, and has a specially designed outside wall for
vine growing to help cool the building.
Do You Remember These?


(Attention all old fogies: reminisce back to
the 50's with the words of the Statler Brothers)
And while the world goes hungry..........

Cabbage Patch Blues
Cabbages are piled in a field in Tsumagoimura, Gunma
Prefecture, before being destroyed to adjust the supply
of the vegetable and prevent a fall in market prices.
The village, which produces about 3/4 of the cabbages
consumed in the Tokyo metropolitan area, has had a
bumper crop this year because of almost ideal growing
weather for the vegetable. A total of 4,080 tons of cabbages
in Gunma, Nagano, and Yamanashi prefectures will be
disposed of in exchange for state subsidies.
"War hero" aiding and abetting the enemy?
John F'ing Kerry's picture hangs in the museum
celebrating the Viet Cong's victory over America
in Ho Chi Minh City (formerly Saigon). The communists
in Vietnam consider him and Jane Fonda to be heroes.
Honest Japan.....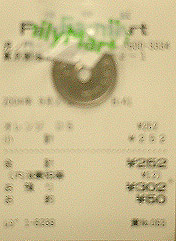 Last Wed. morning I received this receipt
from the cashier at a convenience store
where I often shop. I had been there the
previous Fri. when I forgot my change,
a 50-yen coin which they had saved for me
and taped to the receipt. Just one example of
the numerous reasons why I truly love this country...
Click here to hear the hilarious
new theme song for Kerry's Island
Click here to solve a cute puzzle

THE SENILITY PRAYER
Grant me the senility to forget the people I never liked anyway,
the good fortune to run into the ones I do,
and the eyesight to tell the difference.
The book that John F'ing Kerry wishes he never wrote:
The picture above is the original cover of
John Kerry's book, THE NEW SOLDIER.
John Kerry's friends, the so-called
Vietnam Veterans Against the War,
were mocking this scene photographed
during the Second World War.
6,825 American boys died in the battle
to take Iwo Jima before they planted that flag.
This book is out of print, but you can read it online for free here.
Click here to watch the new TV ad
by the Vietnam Veterans organization,
Swift Boat Veterans for Truth,
blasting John F'ing Kerry
Read four chapters of John O'Neill's book
UNFIT FOR COMMAND online for FREE:
CHAPTER 3 THE PURPLE HEART HUNTER
CHAPTER 5 MORE FRAUDULENT MEDALS
CHAPTER 6 A TESTIMONY OF LIES
CHAPTER 8 KERRY'S ANTIWAR SECRETS
Whitewalls Cost Extra
A Bridgestone Corp. employee displays her firm's smallest tire while standing next to the world's largest tire, unveiled at the company's factory in Kodaira, western Tokyo. The tire--which is 4.02 meters in diameter, weighs 5.1 tons and costs 3.5 million yen--will be used on 350-ton ore trucks at mines in North America and Indonesia.
The Plumber
Walking the Dog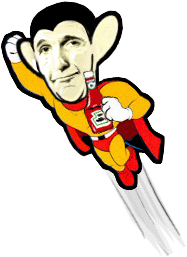 "Help is on the way??!!" (he-he)
(Click here to hear the Mighty Mouse song)
This is called job security for English teachers in Japan
(please read "behaviors" no. 4 carefully!)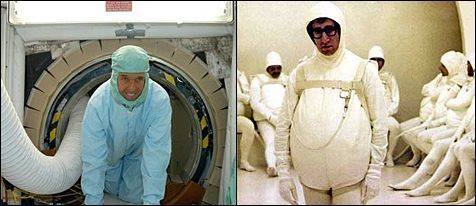 John Kerry (left) as a sperm swimming up a uterus?
(source: NASA)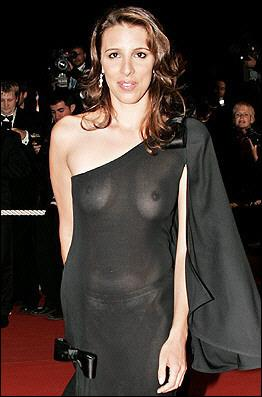 Alexandra Kerry, a 30-year-old actress, documentary filmmaker, and daughter of 2004 Democratic presidential nominee John Kerry, at the Cannes Film Festival on May 16th to present her short film, "The Last Full Measure."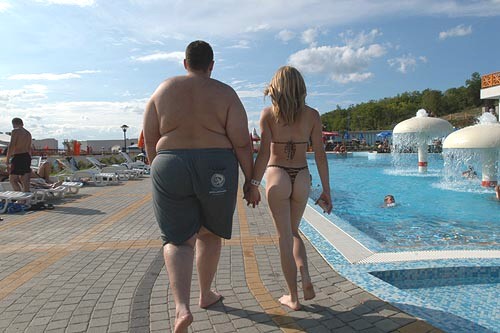 How to Spot a Rich Guy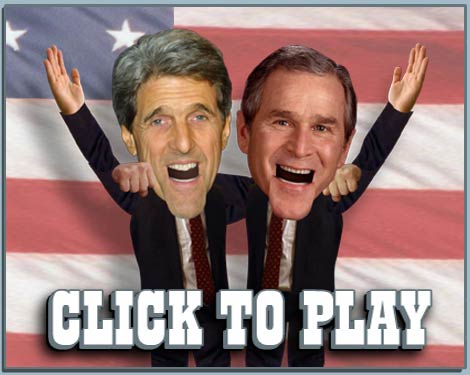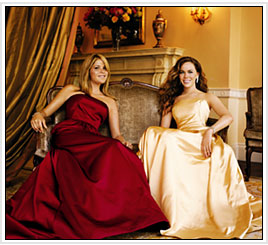 The First Daughters join their father
on the campaign trail.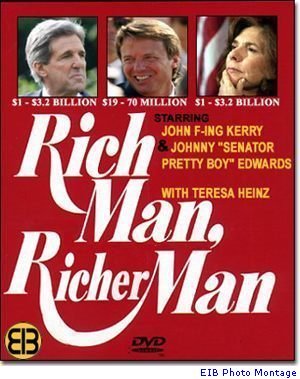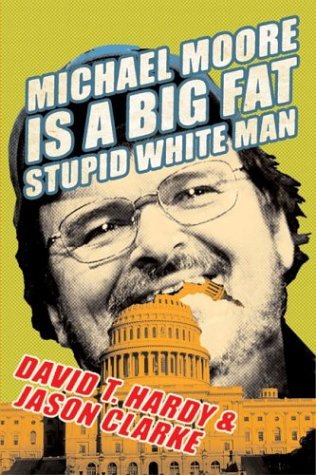 Click here to listen to the trailer for the Big Fat
Stupid White Man's new movie, Fahrenheit 98.6
Audio excerpt from Slick Willie's new book, "My Lie"
Clinton story on wife's name questioned
"The unwillingness to tell the truth or urge to fictionalize is manifest throughout the book.
Take Page 870. The Clintons were in New Zealand and met 'Sir Edmund Hillary who explored the South Pole in the 1950s and was the first man to reach the top of Mount Everest and, most important, was the person Chelsea's mother had been named for.'
Edmund Hillary reached the top of Everest in 1953. Hillary Rodham was born in 1947 when the famed mountain climber was still an unknown beekeeper."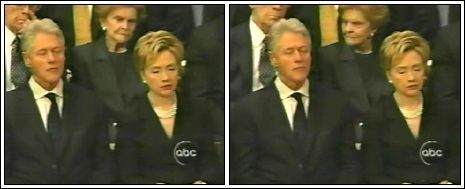 The Clintons pay their final respects at Ronald Reagan's funeral
(zzzzzzzzzzzzz......)
---
Gary Joe Wolff
(in Japan)
Vers. XXX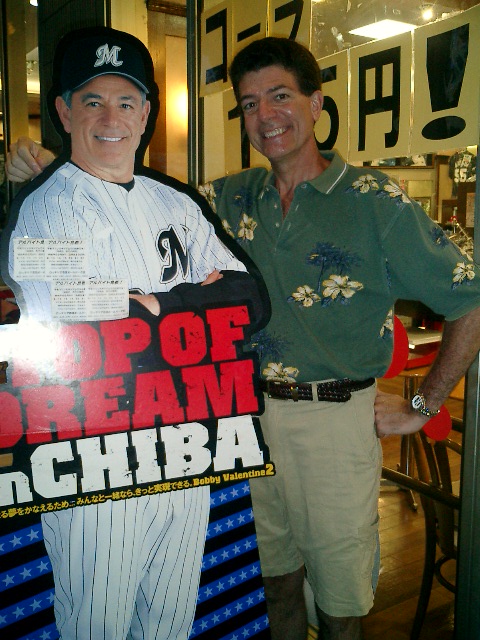 The Chiba Marines' new manager, Bobby Valentine
Navigating this site:
--------------------PHOTO GALLERIES--------------------
(over 400 images)


Take me straight to the Photo Gallery
Exciting Japan Photos
Exciting Texas Photos
Exciting Mountain Photos
Exciting Disney Kid Photos
Exciting Halloween Photos
Exciting Friend and Family Photos
More Exciting Friend and Family Photos, Page 2
More Exciting Friend and Family Photos, Page 3
President George W. Bush Photo Gallery
Mt. Suisho-dake & Mt. Washiba-dake, Northern Japan Alps

-----------------A TRIBUTE TO DAD-----------------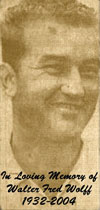 (Dec. 22, 1932--June 7, 2004)
-- take the tour through the almost 50-year career of one of the
best fast-pitch softball pitchers who ever walked on this planet --
(his website was updated August 7, 2004)

Also, you can read dad's obituary here,
or sign his guest book here,
---------------2004 U.S. PRESIDENTIAL ELECTION---------------
(let the fun begin !!)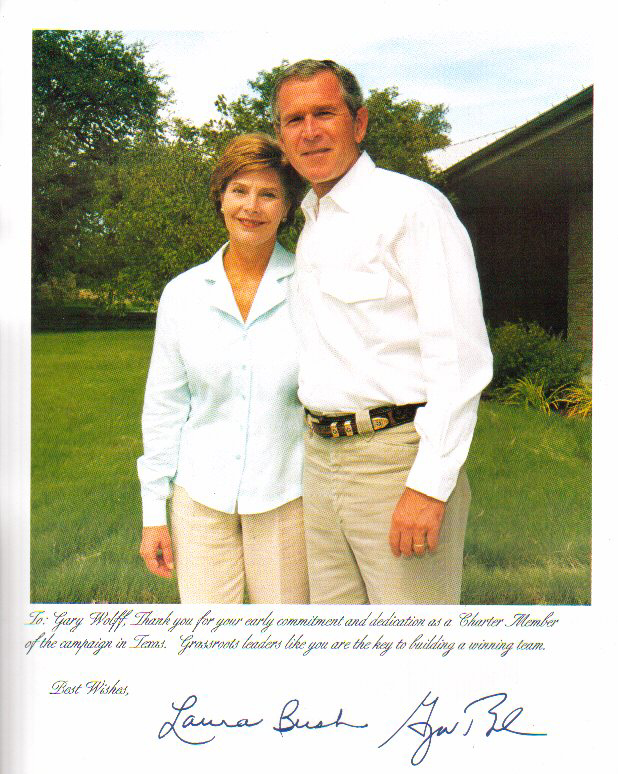 ---
The new John-John Love Fest
How romantic !! Perhaps we need to get these guys a room....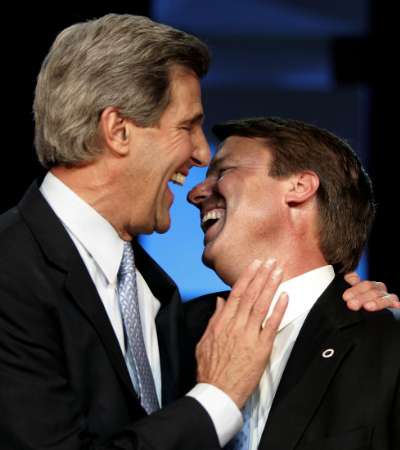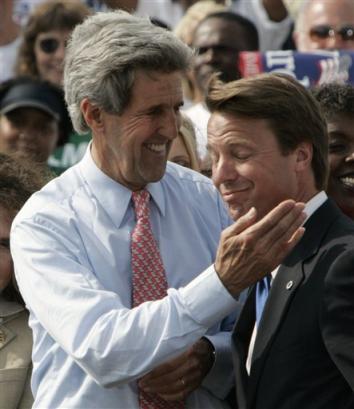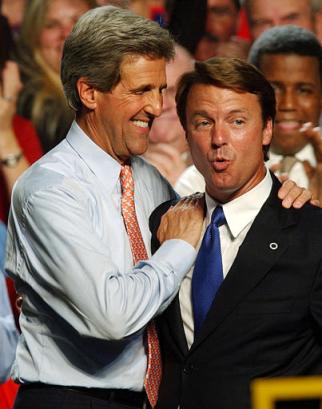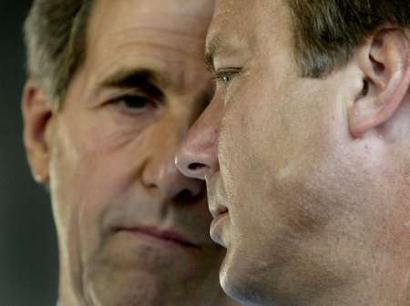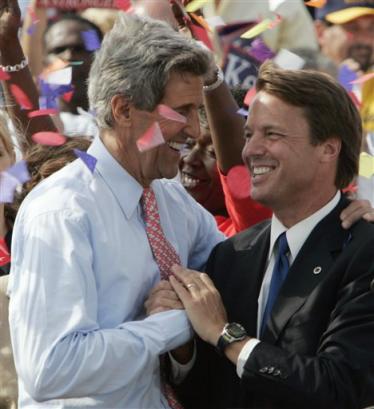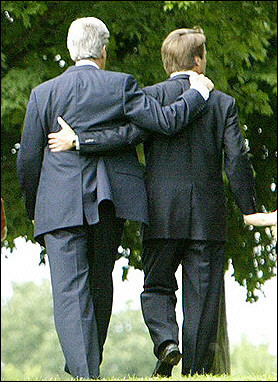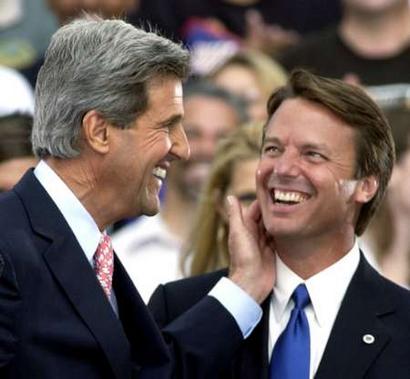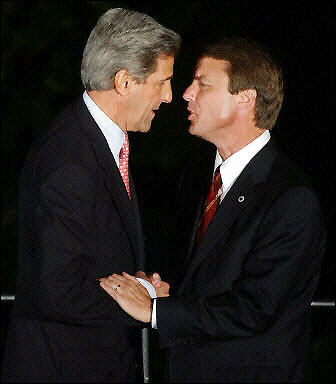 Click here to see a HILARIOUS animated version of the above photos.
THU JULY 08, 2004 10:09:35 ET

CAN'T KEEP HANDS OFF EACH OTHER

Hugs, kisses to the cheek, affectionate touching of the face, caressing of the back, grabbing of the arm, fingers to the neck, rubbing of the knees...

John Kerry and John Edwards can't keep their hands off each other!

In the past 48 hours, "candidate handling" has become the top buzz on the trail.

News photographers have been going wild with photos of the two Johns.

"I've been covering Washington and politics for 30 years. I can say I've never seen this much touching between two men, publicly," e-mailed one wire photographer.

When asked if the Johns are acting out a cynical focus group series of poses -- perhaps to show warmth to the chilly Bush/Cheney -- a Kerry spokesperson explained: "I think we're just seeing genuine affection between them."

But the spokesperson added, "I hope we do not see them wearing matching outfits when they ride bikes this weekend."
************
Source: Matt Drudge
And what a stark contrast with this:
"In the Senate four years -- and that is the full extent of public life --
no international experience, no military experience....
When I came back from Vietnam in 1969, I don't know if John Edwards was out of diapers then."
--John F. Kerry during the Iowa Caucuses on the man he picked for #2--
---
Please listen to some of Paul Shanklin's hilarious parodies here:
John Kerry tries to revise Cambodian history "as he sees it"

John F'ing Kerry rehearses his announcement
of John Edwards as his running mate
Dawn of the Brain Dead Candidate
What if Kerry was interviewed by Dr. Phil?
"Bad Vibrations" (sung to the tune of the old Beach Boys song)
---
Who would you rather have running your country?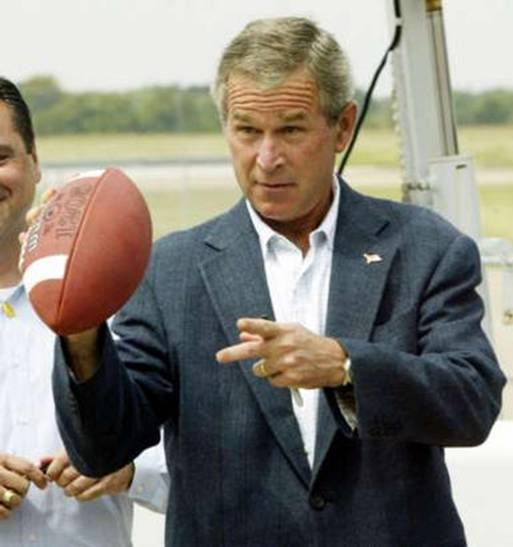 OR
---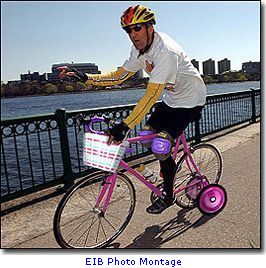 Kerry Bites the Dust Once Again on his Training Wheels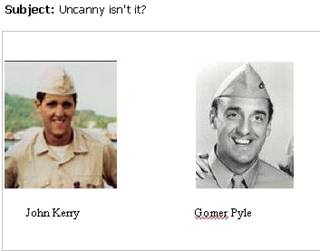 Senators John Kerry (D-MA) and Tom Harkin (D-IA) meet with Daniel Ortega,
leader of Nicaragua's communist Sandinistas in 1984.
---
---
And finally, please click here to see a replay of Howard Dean's
now-famous crazed, shouting speech after the Iowa caucuses.

--------------------FUN STUFF--------------------

A very funny TV commercial

Bill Maher's New Rules

Secret Worlds: The Universe Within
View the Milky Way at 10 million light years from the Earth.
Then move through space towards the Earth
in successive orders of magnitude until you reach
a tall oak tree just outside the buildings of the
National High Magnetic Field Laboratory in Tallahassee, Florida.
After that, begin to move from the actual size of a leaf
into a microscopic world that reveals leaf cell walls,
the cell nucleus, chromatin, DNA and finally,
into the subatomic universe of electrons and protons.
| | |
| --- | --- |
| | Attention all stargazers !! If you're interested in satellites or astronomy, you've come to the right place! Their aim is to provide you with all the information you need to observe satellites such as the International Space Station and the Space Shuttle, spectacular events such as the dazzlingly bright flares from Iridium satellites, as well as a wealth of other spaceflight and astronomical information. They not only provide the times of visibility, but also detailed star charts showing the satellite's track through the heavens. All their pages, including the graphics, are generated in real-time and customized for your location and time zone. |

Happy Firecracker Day to you !!
(Oh, you mean it's not the 4th of July yet? Darn....)

ATTENTION ALL WIVES: Wanna be sure of pleasing your man?
Then "The Good Wife's Guide" is a must read !! (he-he)

For Adult Males Only !!

Risque Jokes, Photos, and Cartoons

Feeling a bit down? Click here to boost your spirits with the "Automatic Flatterer"

How to identify if your cow has MAD COW DISEASE
(courtesy: Mr. Lenny Burns)

A really cool Honda Accord advertisement

An Amazing Clock that follows your mouse pointer around the screen

The Magic Pinwheel

The Leader of the Free World

DRINK MORE BEER -- It's GOOD for you and HERE'S the proof !!

Click here to Blow Up Osama Bin Laden

The Flash Mind Reader

The History of the "F" Word

Engrish.com -- Engrish Favorites from Japan and around the World

Remember when musicians dressed like THIS? (he-he)

The Industrious Clock

An absolutely HILARIOUS cartoon of George W. Bush.....
you just GOTTA check this one out !!

Lady Liberty Fireworks

You Don't Know Jack Schitt

If there was ever any question as to which brand
of soy sauce you should use, here's your answer.

For the first time ever, a camera mounted to the Atlantis space shuttle's
External Tank offered a view of the ride to orbit on Oct. 7, 2002

Some New Features you may need on your Computer

Groovin' Granny

Earth Lights from Space

The Bush-Gore Dance
(It may be over, but the dancing never ends!)

The Dancing U.S. Presidents

The Parade of Stars

Fireworks over Tokyo Bay

3D Rotating Clock

Las Vegas Striptease Girl

Springtime Flowers in Texas
(a virtual slide show)

The History and Lyrics of the Song, "The Yellow Rose of Texas"

Smiles to Help Brighten Your Day

The Paradox of Our Time
by George Carlin

The Twilight Zone page
(the original splash page for www.garywolff.com)
-------------------FEEL GOOD-------------------
STUFF

The Center of the Bible
(if you have PowerPoint & a high-speed connection,
it's worth the wait....trust me)

Cowboy Bush
(hey, WHAT'S wrong with being a COWBOY, anyways ??!!)
Another Version Here

Wake-Up Call -- Flight Day 15 -- Columbia Space Shuttle Mission STS-107,
a music video essay by Chris Valentine
(Background music: "Imagine" by John Lennon)

U.S. Secretary of State Colin Powell's 12 Rules for Life

The very moving and inspirational "Interview with God" presentation
(The words to the poem can be viewed here)

Do not be discouraged. There is hope for us all.....right now.

I Believe

What is the Meaning of Life?

Inspiration and Hope

Love Poems

Tips for Success

Going to College

Life's Many Little Lessons

Affirmation of Faith in an Apocalyptic Age
by the Reverend John Donald Craig
(Jan. 3, 1915 - Nov. 1, 2002)

I've Learned....

A Vanished Friend

The Summer of '99 is Over, but the Memories Linger On........
(a short slide show)
--------------------JAPAN STUFF--------------------

Vending Machines of Japan

A Photo Documentary of Kamagasaki, the largest slum in Japan
(by Shannon Higgins)

TokyoDV -- News, Photos, Products, and Online Videos from Japan

Japanese Streets -- Exclusive Shots of Japan's Trendy Street Fashion -- 150% Cool

Cherry Blossoms in Japan

Click here to see some spectacular fall scenery
from the Northern Japan Alps

Live Concert Schedules for Some of My Favorite Tokyo Musicians:
Charlie Fukami
Alan Patton
Bottleneck Blues Band
Marble Tears
Aki Sasaki
Red*Thread
Donna Burke & Bill Benfield
Miya Ishida
More Tokyo Concert Info


Gary's Tokyo-Houston News Beacon

What's Newsworthy in Japan These Days?

A Live Minicam View of Mt. Fuji
(Japan Time = GMT + 9 hours)

Rob's Japan FAQ: Know Before You Go
(Visiting or relocating to Japan? Get your questions answered here)

More Japan Links

More Tokyo Links
-------------------KARAOKE ROOM-------------------
OK, well there's no little bouncing ball, nor color-highlighted text,
but you've got the words and the music, so.....Get After It !!!

An appeal for PEACE,
issued over 30 years ago by John Lennon.

A Place in the Sun
(an awesome, breathtaking sunset with background music)

Almost Full Moon Fever
(with "Everything I Do... I Do It For You" by Bryan Adams)

Phil Collins in Concert -- "Do You Remember?"

Listen to One of my Favorite Songs Here --
"Open Arms" by Journey

The music and lyrics of the famous song "Happy Xmas"
and message of peace by John and Yoko from 30 years ago !!

The Yellow Rose of Texas

--------------------BORING STUFF--------------------

Web Site Bookmarks

My Resume

Gary's Past Life in the States

Opinion Page
(oops, up on my soapbox AGAIN)
-------------------ARCHIVES-------------------

Previous Versions of this Welcome Page:
In Loving Memory of Dad--1932-2004 (June 2004)
Golden Week Boredom (2004)
I Love Spring !! (2004)
Mars Rover Photos -- February 2004
New Year's 2004 ("2003--the Year in Pictures" photo collage)
Christmas 2003 (Blue Santa Gary)
The View from the Top of Japan -- Fall 2003
Japan is NOT a Safe Country !! -- Summer 2003
Operation Iraqi Freedom -- Spring 2003
A Special Tribute to Space Shuttle Columbia -- Feb. 2003
Christmas 2002 (Santa Gary)
Fishing, Climbing, C&W Dancing -- Fall 2002
Fuji-Xerox World Cup Soccer Ad -- Summer 2002
Christmas 2001
Body Sculpting in the Northern Japan Alps -- Fall 2001
Cherry Blossoms along the Tama River -- Spring 2001
Email to President George W. Bush -- Feb. 20, 2001
Happy 21st Century !! -- New Year's 2001
Christmas 2000
Japan's Spectacular Fall Colors -- Fall 2000
A Summer Night in Japan -- Summer 2000
Spring 2000
New Year's 2000 (Geisha Gary)
Fall '99 (Ricky "Gary" Martin theme)
Summer Fun in Japan -- Summer '99
Spring has Come (春が来た) -- Spring '99
Christmas '98
'98 Nagano, Japan Winter Olympics
Original Home Page published January 27, 1997
Sayonara
Well, I guess that's all for now. Thanks for visiting.
I sincerely hope this web site has been a culturally rewarding experience for you (joke).
The site has grown considerably since it was first launched in Jan. '97 and
it is unlikely you will be able to see everything in only 1 visit.
So please bookmark this site and come back when you can stay longer.
Or as they say in Texas,
"Y'all come back now, ya heah?"
Happy surfing !!
And don't forget to drop me a line if you have time.
If you have any comments, suggestions, complaints,
or would just like to yell at me,
you can send email here:
Congratulations!
You are person number



to visit this site so far today!
Ha Ha Ha !
Come back and visit real soon, ok ??!!
The last time I fiddled with this site was September 12, 2004.

Enter a word or phrase



(for the benefit of my non-English speaking guests)

Sunrise/Sunset Times
DAILY | MONTHLY
Today's Moon Phase
Courtesy: U.S. Naval
Observatory

Mr. Web Counter reports that
you are life-form number



to beam your presence aboard this page.